By Barry Dequanne | Follow me on Twitter @dequanne
We recently hosted an evening event with parents and teachers entitled, "The Future of Education." The workshop was more of a discussion about the factors that are currently disrupting and redefining education rather than an articulation of what education will look like in the future.
To begin the discussion, each participant was asked to describe the most effective learning experience in his or her life. While there was a wide range of responses, there was one common theme: All but one of the learning experiences occurred outside of a K-12 school setting. The one parent whose experience took place in school shared that his Grade 2 teacher allowed him to extend his learning in an area of personal interest that developed well beyond the level required in the syllabus.
The participants were then asked to explain why they believed the learning experiences they described were so effective and meaningful. What emerged from the ensuing discussion was the concept of relevance – when the learning represented a high level of relevance to the learner, the result was usually an effective and deeply meaningful learning experience.
Relevance
So, is the concept of relevance as a basis for our educational programs the panacea we have been seeking to significantly improve K-12 educational programs and, in turn, student learning and development? While we know there is no simple "one solution fits all" solution to improving schools, we are seeing an increased focus on relevance and personalized learning. If forced to use one word to describe the future of education, many would agree that the word would be relevance.
The research of Lee Jenkins (2013) highlights why this discussion is important. Jenkins worked with 3,000 teachers from Kindergarten to Grade 12 to determine how enthusiastic students are about school. The result of the study was that 95% of kindergarten students are enthusiastic about school. However, this percentage drops significant each year until Grade 9 when the percentage of students enthusiastic about school drops to a low of 37%. The small increase between Grades 10 to 12 is attributed to the focus of some students on graduation and beyond (see graph below). It seems that we should all be concerned with the results of this study.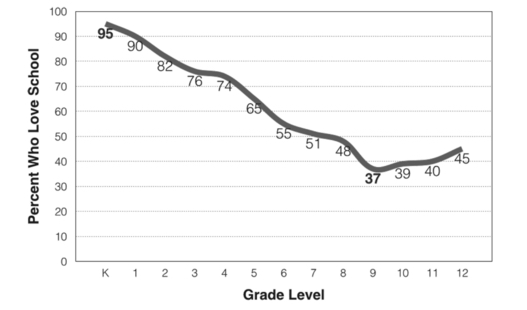 Source: The New Meaning of Educational Change, Fifth Edition, by Michael Fullan
It is believed that a greater focus on relevance in education will contribute to ensuring a higher level of student enthusiasm for school. To that end, relevance can be defined in many ways, including the framework of preparing students for life beyond school.
Future of Jobs
In Future of Jobs, published by the World Economic Forum, the report lists the top ten skills needed to thrive in a 2015 work environment. Looking ahead five years, it is believed that over 35% of the skills considered important for work today will have changed, resulting in a different list of top ten skills in 2020.
Top 10 Skills in 2015:
Complex Problem Solving
Coordinating with Others
People Management
Critical Thinking
Negotiation
Quality Control
Service Orientation
Judgment and Decision Making
Active Listening
Creativity
Top 10 Skills in 2020:
Complete Problem Solving
Critical Thinking
Creativity
People Management
Coordinating with Others
Emotional Intelligence
Judgment and Decision Making
Service Orientation
Negotiation
Cognitive Flexibility
In comparing the two tables, it is interesting to note that five of the skills in 2020 are relationship based: People Management, Coordinating with Others, Emotional Intelligence, Service Orientation, and Negotiation. It is also interesting to note that Creativity moved up the list from tenth place in 2015 to third place in 2020.
Creativity
George Land was responsible for developing a creativity test for NASA to determine how innovative potential scientists and astronauts were as part of the candidate assessment process. In 1968, Land used the same test to evaluate children over a ten-year period. The results were astonishing, as displayed in the chart below.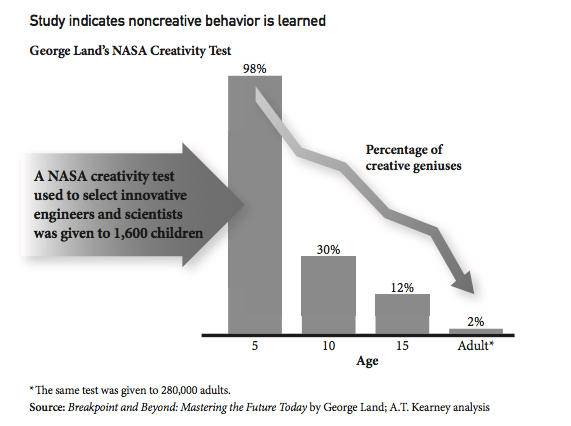 Source: Most Likely to Succeed: Preparing our Kids for the Innovation Era, by Tony Wagner and Ted Dintersmith
The test was given to 1,600 students with a resulting score of 98% for five-year-olds. The same students were tested five and ten years later, scoring 30% and 12% respectively. The same test was given to 280,000 adults, who scored an average of 2%. The conclusion of the study was that non-creative behavior is learned.
The significant drop in levels of creativity has been attributed, in large part, to, an educational system that was developed on a premise established 200 years ago during the Industrial Revolution to train students to follow instructions and be good workers. Education has of course evolved since that time, though it can be argued that the framework associated with the original premise continues to limit reform in education.
Returning to the title of this post and the Future of Education, some of the questions that will guide future educational reforms will need to include issues relating to creativity, future work skills, enthusiasm for school, and, perhaps most importantly, the concept of relevance and the learning process.
Blog: www.barrydequanne.com
Featured image: cc licensed (CC BY-NC-ND 2.0) flickr photo by Nelson de Witt:
Child's Play; https://www.flickr.com/photos/mcescobar1/4826861354