During a recent school governance conference, the attendees, who include school directors and board members, reflected on how schools of the future will be different from what we know today. Our facilitator, Lee Crockett, invoked the often used but, at times, little understood concept of a "21st Century School" to challenge our current thinking (If you are interested in learning more about these concepts, Lee Crockett overviews his book, "Literacy is not Enough," in an informative video interview).
While I was interested in the substance of the discussion, I was also intrigued by our collective reactions and discomfort as we struggled to predict the future of education. Given the rate of technological change, few people, if any, are likely able to accurately predict how technology will ultimately influence the traditional nature of schools. What we do know is that schools and learning will look very different from what we experienced as children.
So, how do we move forward? Fortunately, educational and technological theorists are thinking deeply about the future of education and the result is the emergence of several frameworks. The Global Digital Citizen Foundation and its 21st Century Fluency Project represent one such framework that articulates an educational focus on ensuring that learning continues to be meaningful. While there are indeed other helpful models, the 21st Century Fluency Project presents a framework that will challenge all of us to reflect on the role technology plays in the learning process, both at home and at school. In summary, the model complements traditional learning with a concentration on attaining five related digital fluencies: creativity, collaboration, solution, media, and information.
EAB is strategically addressing these changes in several different manners, ranging from the implementation of a 1-to-1 program, to a shift from one traditional library to three iCommons (Information Commons), to weekly technology training workshops for teachers, to a change in instructional practices and collaboration expectations. On a personal note, I am teaching a high school Leadership class this year, which includes experimenting with a blended learning model, meaning that learning is taking place both in person and through an online setting. We are using an infrastructure called Haiku, which is a digital K-12 online platform. An exciting element of the course is that this platform enables us to learn, in collaboration, with students from two other international schools, one in the U.S.A, and one in Mumbai. Through the power of the Internet and technology, our class has been expanded and enriched through the inclusion of students from other parts of the world. This has taken the learning experience of our students to a higher level of interest, diversity, and engagement.
A question: If you were asked to highlight the most important skills students will need for future success, what skills would you list? How does your list compare with the following list of the most important skills generated by professional educators and researchers?
Problem Solving
Creativity
Analytical Thinking
Collaboration
Communication
Ethics, Action, Accountability
Now, let's examine these skills in the context of Bloom's taxonomy: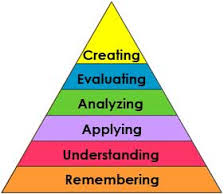 The list of skills generated by professional educators and researchers correspond directly with the higher level thinking skills of Analyzing, Evaluating, and Creating associated with Bloom's taxonomy, rather than the lower level skills of Remembering, Understanding, and Applying. It is these higher-level thinking skills that guide the ongoing development of EAB's educational program.
As EAB continues its work towards the continued implementation of effective and relevant teaching and learning practices, we will also continue to be guided by the approaches presented above in conjunction with Lee Crockett's guiding concepts of relevance, creativity, and real-world application.
_________________________________________________
Profile: I am currently working as the Head of School at the American School of Brasilia and publish a weekly blog at www.barrydequanne.com.
Featured image: cc licensed (CC BY-ND 2.0) flickr photo by Johan Larsson: https://www.flickr.com/photos/johanl/6966883093