"If I have seen further, it is by standing on the shoulders of giants." ~Isaac Newton
A friend of mine from Brasilia is known for habitually reposting to Facebook, on behalf of desperate dog owners, photos of missing dogs. Gisela's hope is that neighborhood residents will recognize the dogs in the photos and reunite these beloved, missing canines with their owners.
As a fellow dog owner, I quietly grieve for owners each time I see one of these missing dog announcements. This feeling of grief was no different when a posting of a cute, elderly dog with a broken ear and a lazy eye appeared in my newsfeed. What was different about this posting, however, was that my name was linked to this posting with the following message: "The dog has a tag that appears to be from the United States. Barry, with your connection to the international community, could you reach out to your contacts?" I would of course reach out, but, as a busy workday was about to begin, I made a mental note to send messages in the early evening.
While the day did turn out to be very busy and productive, it was about to end on a high note as I made my way to visit the after-school chess activity. While watching two five-year-old students discover the nuances associated with the beautiful game of chess, I noticed one of the students was in a lackluster, almost despondent mood. When I asked the student if anything was wrong, he turned to me and lamented that his dog Crawford was missing and not been home for nearly a week.
It was then that I recalled the Facebook posting from the morning. While it seemed highly unlikely for there to be such a coincidence of circumstances, I went ahead and showed the student the Facebook posting of the missing dog with a broken ear and lazy eye. Upon seeing the photo, the student beamed an enormous smile and shouted, Crawford!!!"
After a series of phone calls and messages, Crawford was finally reunited with his owners later that evening.
The events of the day served as an important reminder of the inherent power associated with social networks, particularly when used in an ethical, meaningful, and purposeful manner. It is clear that the way we communicate, connect, problem solve, and learn has been forever changed. While we need to continue addressing the challenges of social media, the potential for creative and positive change derived from the harnessing and application of seemingly endless resources offers a unique set of tools to solve problems and ensure a better future.
Isaac Newton's iconic quote, "If I have seen further, it is by standing on the shoulders of giants," refers to Newton's gratitude for the contributions of those who have preceded him. In today's context, I wonder if Newton would have considered the "shoulders of giants" to also include the learning and understanding resulting from the use of technology to exponentially increase levels of collaboration, networking, and sharing?
If social networks can be used to rally a community's resources towards reuniting Crawford with his family, it is exciting to imagine how these same networks and associated resources will continue to redefine not only our daily lives but the paradigm of traditional education and learning. It is the challenge of educators to determine how these new technologies will be employed to improve the learning process.
There is no doubt we are living through a fascinating inflection point in the history of educational development in addition to our understanding of how we learn. Nevertheless, through all of this change, we must never lose sight of the "why?" and "to what end?" questions. I am confident that Crawford would approve of this guiding principle as he again basks in the warmth of his home and loving family.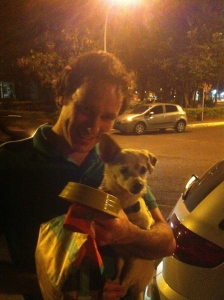 _________________________________________________
Profile: I am currently working as the Head of School at the American School of Brasilia and publish a weekly blog at www.barrydequanne.com.
_________________________________________________
Featured image: cc licensed ( CC BY-NC-ND 2.0 ) flickr photo by Tarek Harbi: https://www.flickr.com/photos/[email protected]/15090632281