We all experience those days when our schedules seem to demand more of our time than hours are available in the day. It is often these same days when we feel most focused, effective, and efficient, especially in terms of completing our "to do" lists. It is also common during these times to engage in seemingly countless brief conversations with friends, families, colleagues, and strangers. While these ephemeral conversations may be lost and forgotten in the shuffle of a frenetic day, it is these same conversations that may represent, for example, a critically important moment for an individual, the idea for a transformative project, or a fundamental change in personal circumstances. While it is easy to dismiss these brief conversations while in the process of fulfilling a busy agenda, these same conversations may result in being the most important outcome of our day.
In his book, Triumph of the City, Zappos' CEO Tony Hsieh refers to the brief meetings with others that lead to significant outcomes as "serendipitous encounters." Hsieh extends this idea with the statement:
"
Research has shown that most innovation actually happens from something outside your industry being applied to your own. And those are the results of random conversations at …coffee shops or just when you have collisions with other people.
"
Hsieh's thoughts were not on my mind during a typical busy day when I was quickly introduced to the conductor of the National Theater Symphonic Orchestra. While this chance encounter lasted no more than forty-five seconds, it would lead to one of the most memorable evenings in our community's recent history. Through the work of our leadership team, it was only a few weeks later when one of Brazil's top orchestras spent a full day at our school educating and rehearsing with students. The evening performance took place in our auditorium in front of a capacity audience that was fully representative of our diverse community. The performance was moving and inspirational. Brazil's Rede Globo network covered the performance and shared the following video clip during the station's news broadcast.
On another occasion, a member of the Parent-Teacher Organization (PTO) briefly shared, in passing, the idea to host at our school a public display of one of Brasilia's most famous artists. This brief encounter led to a very special community evening vernissage to celebrate the work of Athos Bulcão, which included several original works displayed at our school for several weeks (Link to Virtual GalleryLink to Virtual Gallery).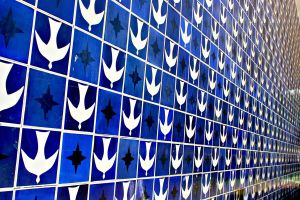 "
Artista eu era. Pioneiro eu fiz-me. Devo a Brasília esse sofrido privilégio. Realmente um privilégio: ser pioneiro. Dureza que gera espírito. Um prêmio moral
".
~ Athos Bulcão
A third brief encounter led to the University of Brasilia's Opera Studio presenting at our school an outstanding performance of Gaetano Donizetti 's opera Don Pasquale. Two EAB students were invited to perform with the orchestra, representing a special and unique experience for our student musicians.

These serendipitous encounters led to innovative enhancements associated with the appreciation of the arts and a better understanding of Brasilia's cultural heritage. Reflecting on key events and the innovative changes implemented at our school in recent years, many of these outcomes can be traced back to a serendipitous encounter that could have easily been missed if those involved were not paying attention or took the time to genuinely listen to others.
As educators, we tend to fiercely protect our schools and domains as teachers and school leaders. However, we may be guilty, at times, of responding in a seemingly defensive manner to different ideas and perspectives offered by those not associated with education. There is much to learn from others, especially those who see schools through a different lens, and it is our responsibility to not only embrace and explore new ideas, but to model for our students the ideals related to the process of continuous growth and development.
Serendipitous encounters are not limited to institutional events but also include those daily encounters with friends, family, colleagues and students. While a thirty-second encounter with a student, for example, may seem to carry little weight from an adult's perspective, to the student, the encounter may represent a significant moment that will be internalized for years to come.
Whether our brief meetings with others lead to the innovative institutional changes highlighted by Tony Hsieh or make a real difference in the life of a student, we have a responsibility to remind ourselves of the importance of our interactions with others and the possible far-reaching implications that may result from these brief encounters.
_________________________________________________
Profile: I am currently working as the Head of School at the American School of Brasilia and publish a weekly blog at www.barrydequanne.com.
Featured image: cc licensed (CC BY-NA 2.0) flickr photo by Marcos Molina – Tocando el violín https://www.flickr.com/photos/larou/3462594915