As we expect more from technology, do we expect less from each other?
This is the question clinical psychologist Sherry Turkle asks in her book, Reclaiming Conversation: The Power of Talk in a Digital Age, which is based on 30 years of her work studying the psychology of people's relationships with technology. While she is not anti-technology, Turkle presents a compelling case that our current communication revolution is degrading the quality of human relationships.
Based on five years of research and interviews in homes, schools, and workplaces, Turkle argues that many of us, "would prefer to send an electronic message or mail than commit to a face-to-face meeting or a telephone call" (Turkle, 2015, p.3). Her concern is the cost associated with this new type of connection and how technology allows us to find ways around conversation. She argues that "face-to-face conversation is the most human – and humanizing – thing we do. Fully present to one another, we learn to listen. It's where we develop the capacity for empathy" (Turkle, 2015, p.3).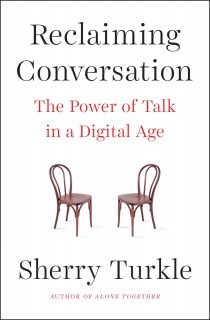 Reclaiming Conversation argues that, while technology presents us with seemingly endless possibilities to improve our lives, it also allows us to hide from each other even as we're constantly connected to each other. And, it is this loss of connection and conversation that should give us pause and cause for concern. In having fewer meaningful conversations on a regular basis, we are losing skills such as the ability to focus deeply, reflect, read emotions, and empathise with others, all of which are needed to actually engage in meaningful conversations.
Turkle further argues that the ability to have meaningful conversations also depends on our engagement with solitude and self-reflection. If we are always connected, then we may see loneliness as a problem that technology needs to solve and that being connected is going to make us less lonely. However, Turkle cautions that it is actually the reverse: "If we are unable to be alone, we will be more lonely. And if we don't teach our children to be alone, they will only know how to be lonely" (Turkle, 2015, p.23). Research in this area indicates that being comfortable with solitude and, correspondingly, our vulnerabilities is central to happiness, creativity, and productivity.
Building on these considerations and thinking about Turkle's writing in the context of ISZL, the book presents several compelling arguments for any school and community to consider, particularly given our collective work to support student learning and development. On a personal note, the book challenged me in several ways in terms of my own relationship with technology and my practices as a father, husband, educator, and community member. By way of an example, the following passage from the book has led me to further consider the implications of the presence of a cell phone during conversations:
"What phones do to in-person conversation is a problem. Studies show that the mere presence of a phone on the table (even a phone turned off) changes what people talk about. If we think we might be interrupted, we keep conversations light, on topics of little controversy or consequence. And conversations with phones on the landscape block empathic connection. If two people are speaking and there is a phone on a nearby desk, each feels less connected to the other than when there is no phone present. Even a silent phone disconnects us " (Turkle, 2015, p.20).
A central question emerged during the reading of this book: Are we unintentionally inhibiting our students' development in terms of the skills and tools that are crucial to friendship, love, happiness, work, creativity, and sense of worth? Like anything that is of deep significance, there is no simple response to this question as we continue to understand the benefits and impacts technology is having and will have on our lives.
Turkle believes that our regular connection to be online and "elsewhere" will likely lead to the erosion of the essential human qualities of empathy, generativity, and the mentoring of our young. If this is true, then there are obvious and compelling reasons for our school community to further our reflections, conversations, and actions associated with this challenge. These thoughts may perhaps be best summed up by Cameron, a student Turkle interviewed, when he shared what he sees around him: "Our texts are fine. It's what texting does to our conversations when we are together, that's the problem" (Turkle, 2015, p.21).
---
Reference:
Turkle, S. (2015). Reclaiming Conversation: The Power of Talk in a Digital Age, Kindle Edition. Penguin Press.
Featured image: cc licensed (CC BY 2.0) flickr photo d26b73: i I i
https://www.flickr.com/photos/jeff_sch/9274657293/in/photostream/

---
Twitter: @dequanne
Blog: www.barrydequanne.com
---