Books About Big Dreams
The Girl Who Loved Giraffes, written by Kathy Stinson, illustrated by François Thisdale is a beautifully executed, nonfiction picturebook that works on several levels. First and foremost it is the biography of a remarkable young woman who knew what she wanted. Anne Innis Dagg was a child who saw her first giraffe in a zoo. She studied worked and saved hard in hopes of, one day, going to Africa to see giraffes in the wild. Through sheer determination, she did, in the 1950's, and became one of the first scientists to study and observe giraffes in the wild. Anne worked all of her life to preserve and protect her favourite animals.
This is also a story of feminism and discrimination since universities refused Anne a position as professor, simply because she was female. Later, universities apologized and even bestowed her with an honorary degree. Anne's story is reminiscent of that of Jane Goodall, another female pioneer in the world of zoology.
And lastly, this picture book works as a catalyst to help young readers learn more about and appreciate giraffes, while encouraging them to follow their dreams. ISBN 9781554555406, Fitzhenry & Whiteside
Her Epic Adventure, 25 Daring Women Who Inspire a Life Less Ordinary, by Julia de Laurentiis Johnston and Salini Perera. This nonfiction picturebook (64 pages) features women around the world who have accomplished impressive feats despite the fact that they were discouraged because they are/were female. The book is divided into sections like 'Land', 'Ice' and 'Water'. Each double spread tells the story of a woman who achieved her dream, including Mae Jemison, America's first black woman in space, the petite Junko Tabei from Japan who conquered each of the seven highest peaks on each continent and Arunima Sinha from India who reached the top of Mt. Everest despite having a prosthetic leg. I enjoyed learning about the youngest girl sailing around the world and about Sylvia Earle who became a world renowned oceanographer against all odds. A great book to encourage anyone, female or male, to achieve their dreams and not give up. ISBN 878-1-5253-0110-0, Kids Can Press
Based on true events, Two At The Top by Uma Krishanaswami, illustrated by Christopher Corr, is the brilliant story of two boys who share a same dream: to climb to the top of Mount Everest, the world's tallest mountain, one day. Neither boy knows if they can ever achieve their dream. Tenzing Norgay lives in Nepal and tends his father's yaks. Edmond Hillary lives in New Zealand and tends his father's bees. Lovely, mirroring pages and well balanced text shows how each boy, from an early age on, works and trains towards his goal. In 1953 the sherpa and the climber finally meet and, as a team, reach the summit of Mount Everest and achieve their joined dream. The book gives factual information on mountains and their environment in the back. ISBN 978-1-77306-266-2, Groundwood Books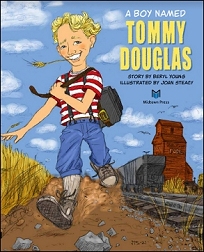 A Boy Named Tommy Douglas, by Beryl Young, illustrated by Joan Steacy is an important story for Canadian children to read. Or for that matter, for anyone who ever goes to a doctor's office, gets treatment or stays in hospital and doesn't have to pay. In Canada, we owe this free medical care to a boy from Saskatchewan who injured his leg in 1911. He felt it was unfair that he could not see a doctor because his parents could not afford it. For the rest of his life, Tommy Douglas worked hard in government and succeeded, in 1968, to bring universal health care to all Canadians. A fascinating story about how dreams can come true. ISBN 978-1-988242-41-5, Midtown Press
And it's not only people who become famous who have big dreams. In John's Turn, written by Mac Barnett and illustrated by Kate Berube, John is in elementary school and nervous, but also excited, that his turn is coming up at Sharing Gifts time, his class' show and tell. Will he do magic tricks? Will he read? No, John puts on his leotards and dances, leaving the entire class in awe and earning a standing ovation from his friends. The book shows kids to believe in themselves and follow their own dreams by being brave. ISBN 978-1-5362-0395-0, Candlewick Press
And finally a very unusual book of poems: Take Off Your Brave, The World through the Eyes of a Preschool Poet, by Nadim (age 4) and illustrated by Yasmeen Ismail. This is a collection of poems in picture book format. In the inbtroduction Nadim's mom explains how they discussed 'what a poem is' and how she recorded his words. Now Nadim writes his own poems, encouraging his sister and his preschool class to write poems as well. The poems in this collection deal with love, friendships, nature, school and much more. In Dream School the students turn into kittens and there are no bullies. And when you come home… you can take off your jacket and take off your brave! ISBN 978-1-5362-2316-3, Candlewick Press
Margriet Ruurs is the author of over 40 books for children. She conducts author presentations at international schools around the world. www.margrietruurs.com