One of the many facets I appreciate about the education profession is the opportunity to begin each year afresh as part of a continuous cycle of renewal. The new relationships, new challenges, and new learning and growth opportunities offered during the school year bring us another step forward towards the self-actualization aspirations we set for ourselves, both as individuals and institutions. Serving a school community in this capacity in conjunction with the corresponding privilege of working with students is indeed a wondrous and meaningful experience for all involved.
To celebrate the return to the learning process and to frame our work for the year ahead, I shared the following quote with the American School of Brasilia's faculty and staff: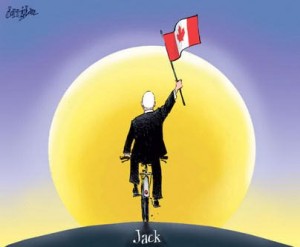 "My friends, love is better than anger. Hope is better than fear. Optimism is better than despair. So let us be loving, hopeful, and optimistic. And we'll change the world." ~Jack Layton
The essential human qualities of love, hope, and optimism underscore the fundamental characteristics of what it means to be an educator, whether in the capacity of a teacher, family member, friend, or supporter. Students need role models who value deep and empowering relationships, who inspire hope for the future, and who are eternal optimists. Schools must be a place where students can achieve their potential in a safe and supportive learning environment that enables them to hope and dream.
In my humble and, albeit, biased opinion, I fully believe that the American School of Brasilia (EAB) is emblematic and embracing of Mr. Layton's guiding principles. During the first week of school, I was reminded of how much our faculty members not only love their profession and the subject they teach, but also the deep level of care they exhibit for the wellbeing and the learning of our students. I was reminded of how much hope for the future is inspired by teachers, students, and parents, particularly through the positive energy exhibited through their relationships and mutual support. Finally, I was reminded that teaching and learning is an inherently optimistic endeavor. It is comforting to know that EAB's faculty and staff are eternal optimists when it comes to teaching, learning, and the wondrous potential that can be achieved by all.
In his book The Courage to Teach, Parker Palmer highlights the complexities associated with teaching, which extend beyond curricula, philosophies, and teaching resources, through his statement, "[teachers] teach who they are." If this is true, then our students are most fortunate to be members of a community filled with talented and passionate people who are, "loving, hopeful, and optimistic", and fully committed, through education, to changing the world to make it a better place.
_________________________________________________
Profile: I am currently working as the Head of School at the American School of Brasilia and publish a weekly blog at www.barrydequanne.com.
Image Credit: Patrick Corrigan